27aug10:00 am6:00 pmHEALING FESTIVAL 201710:00 am - 6:00 pm Undercliff Drive, Ventnor, Isle of Wight, PO38 1UL
Event Details

The Healing Festival returns to Ventnor Botanic Garden.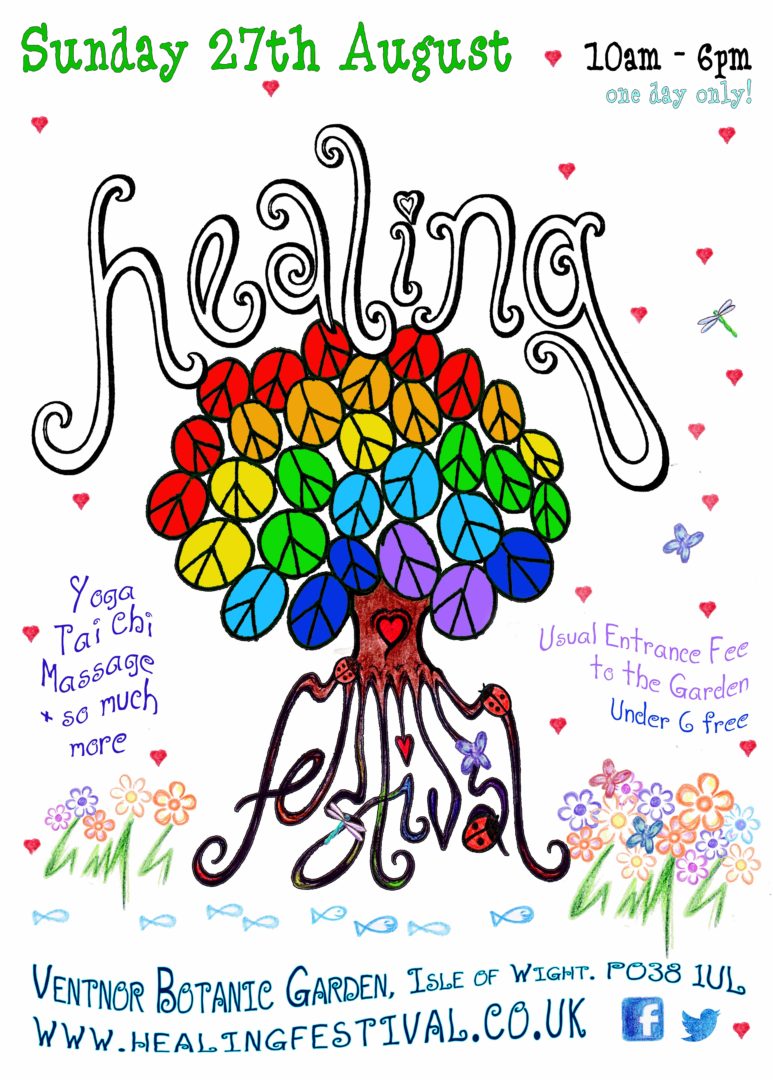 Healing Festival Schedule
Echium Room
10-11am Yoga Nidra with Sue Bolton
12-1pm Pilates with Emma Wharton
1-2pm ' Awareness Through Movement' with Henrietta Burns
2-3pm 'Shine ' Come find your Shine, Bring out your inner Brilliance, & Light up your Life with Brian Mayne
4-5pm Balinesian Bio Energy Meditation (Shaking Yoga) with Bill Burns
Isle of Wight Red Tent
10-11am Mosaic Making with Nerissa Clarke
11-12pm Mandala Weaving and Pebble Drawing with Bee Stingle
12-1pm Relaxation and Sharing Circle with Jen Marsden
1-2pm Shamanic Drumming with Tanya Macallister
2-3pm Belly Dancing with Rebecca Blanchford
3-4pm Dreamcatcher Workshop with Donna
4-5pm Belly Dancing with Zoe Chandler
5-6pm Crochet Workshop with Mandy Cain
New Zealand Garden
Taster classes of combined Tai Chi and Chi Kung with Gary Brindley 11am, 1pm and 3pm
Magic Meadow
An area to chill out, let the kids play and get creative.
2-3pm Mandalas Weaving (ochos des dios) with Fany Bahchevanska
Aura Hut
Aura Photography with Charlotte Smith
Through donations and £1 gift aid at the entrance The Healing Festival will be raising money for the Wight Squirrel Project and Red Squirrel Trust, a local charity which protect the islands red squirrel population and their habitat.
Time

(Sunday) 10:00 am - 6:00 pm
Location

Ventnor Botanic Garden

Undercliff Drive, Ventnor, Isle of Wight, PO38 1UL