24sepalldayalldayHOPS FESTIVAL 2017(All Day: sunday) Undercliff Drive, Ventnor, Isle of Wight, PO38 1UL
Event Details

Ventnor Botanic Garden is delighted to announce that this year's Hops Festival will be held on Sunday 24th September from 11am to 6pm, with a brand new flavour.

The Hops Festival celebrates the harvest of the hops grown on site at Ventnor Botanic Garden as well as the continuation of the tradition of picking them by hand. Once picked, they are brewed into our Original Botanic Ale by Yate's Brewery; or into our Limited Edition Botanic Pale Ale by Goddard's Brewery. This year, we are also excited to introduce our Botanic Lager with a Hint of Eucalyptus by Goddard's – a fresh, minty taste to send peppermint sparks through your taste buds.

The Festival will include entertainment for all ages including plenty of competitions and games. Food will be served throughout the day with live music performances including The Ohmz, Fellowship of Groove, Doug Alldred & The Silver Lining and many more who will help to create a merry atmosphere and ensure the celebration of this year's harvest continues in style.

Entry to the Hops Festival is Free with complimentary parking as well. For those who also want to visit the Garden whilst they are here we simply ask for a donation towards the ongoing maintenance of the Garden (£5 minimum donation).harvest continue in style. Free entry and parking to the Festival, with just a donation to ongoing maintenance to visit the entire Garden (£5 minimum donation).

Please see details & full line up below.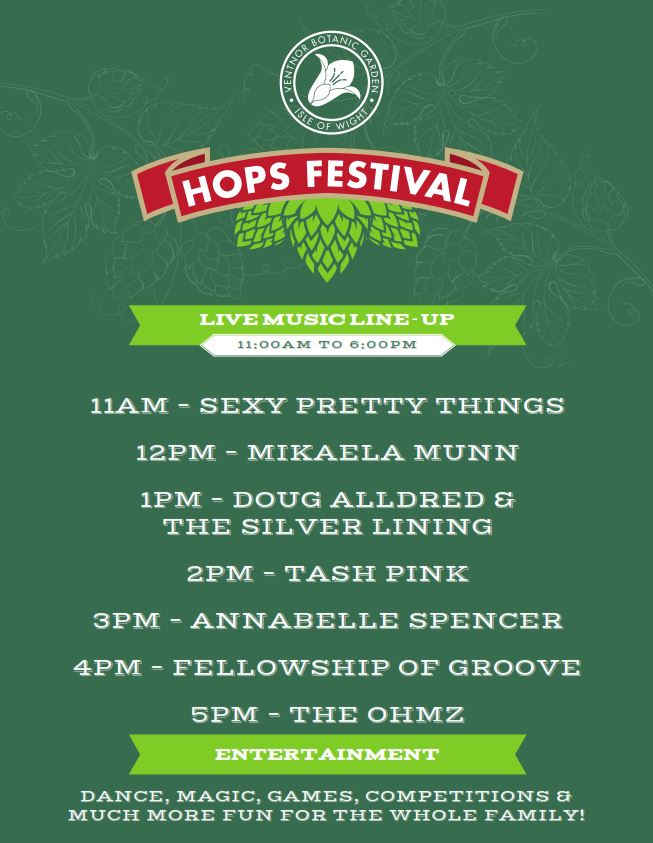 Location

Ventnor Botanic Garden

Undercliff Drive, Ventnor, Isle of Wight, PO38 1UL