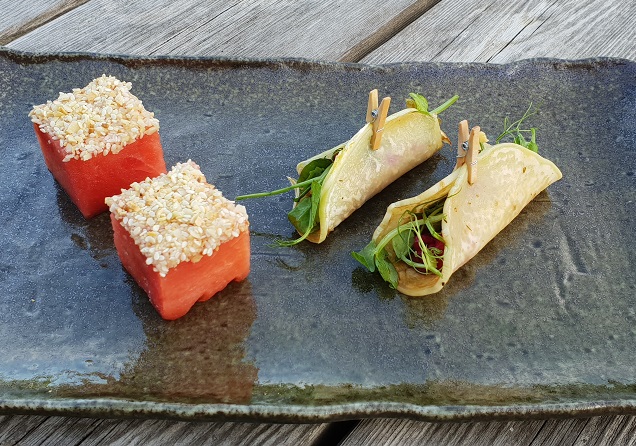 Following the success of the first two of our Plant-Based Dining Experience evenings, we are now taking bookings for our third such event. Our AA Rosette Awarded Head Chef, Brad Roe, works with the canvas of Ventnor Botanic Garden's edulis Restaurant. Brad can often be seen foraging in both the nurseries and the garden itself looking for micro herbs, exotic salads and even edible flowers. He aims to marry fine dining with the creative use of these homegrown and locally sourced plants. It's not about vegan, vegetarian or whole foods… it's about plant-based dining.
Ventnor Botanic Garden offers a six-course menu with every dish will be introduced by Brad himself. The dining experience begins at 7.30pm, but why not arrive a little before for pre-Dinner drinks (and peruse the carefully selected complementary wine list).
The menu for the 16th August includes:
Charred Ventnor Botanic Garden Marrow & Isle of Wight Smoked Garlic Bisque
with Tarragon Cheese Toastie
Cucumber Granita, Pickled Heritage Carrot & Chilli 
with Honeydew Melon
Moonbeam Squash Korma
with Purple Sage Basmati
"Cabbage City" Braised Hispi Cabbage in Ventnor Botanic Garden Eucalyptus Ale
with Cashew Creamed Savoy, Kimchi and Crispy Kale
Braised Fennel in Isle of Wight Mermaid Gin
with Purple Potato & Balsamic Onion Hash
Cherry & Redcurrant Crumble
with Ventnor Botanic Garedn Golden Berry & Disaronno Compote
Tickets are available here
If you are unable to make this evening then panic not, we are also hosting the Plant-based Dining Experience on Friday 24th August, Thursday 30th August and Friday 14th September.