The Mushroom Chamber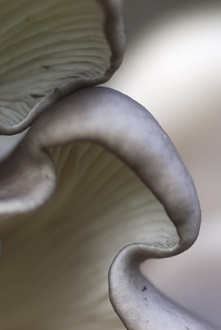 Mushrooms, or fungi, belong to a group of living things quite distinct from all other plants in that they have no chlorophyll. Therefore they must feed by breaking down and consuming dead matter or invading living organisms. The majority of fungi, like the majority of plants or animals, are inedible, not worthwhile or even poisonous…
However, the mushrooms we grow in our Fruiting Chamber, are very edible indeed. Though they are in fact decay fungi which feed on plant remains or wood, are very edible and delicious, having been selected by growers over many years. They are called Shitake (Lentinula edodes), Yellow and Red Oyster (Pleurotus ostreatus). The practice of their cultivation is well honed and people are becoming more accustomed to these unusual mushrooms on their plates.
Take a guided walk through the underground vaults to see our Mushroom Fruiting Chamber every day at 2.45pm (FREE to Garden admission payers). And then sample the home grown mushrooms for yourself in the Plantation Room Café or take home a pack of our dried mushrooms to enjoy at home… Perfect for soups, risottos and stews!
SIGN ME UP!
If you would like to receive regular news, updates and offers from VBG, please sign up here...

Tel: 01983 855397  |  Ventnor Botanic Garden, Undercliff Drive, Ventnor, Isle of Wight, PO38 1UL