Reiki
Ama Boisard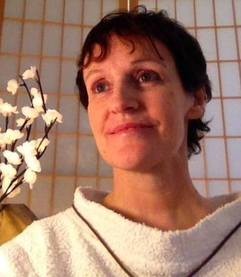 About Ama
Ama qualified as a Reiki Master Teacher in 2007, founded OXFORD REIKI (www.oxfordreiki.com) in 2008, and has been sharing her growing passion for Reiki with her students and clients ever since. She is a member of the UK Reiki Federation.
In March 2016 Ama decided to move to the island to write and offer Reiki locally too. She has been a Reiki Practitioner at the Wellbeing Experience at VBG since May 2016.
Ama is available for treatments and teaching in Ventnor for 3 weeks/ month, then spends 8-10 days back in Oxford to see to her clients and students there. All you have to do, is contact her!
About Reiki
Reiki is a beautiful healing energy, which is channeled, as opposed to generated, by the healer. Reiki is both very gentle and powerful, and tends to go straight to your most urgent needs at the time.
As a rule the more open we are to Reiki, the more we benefit from it. You don't have to believe in Reiki (there is nothing to believe or not believe in, only to experience).
If you put up resistance to Reiki, Reiki may not be able to help you very much, but if you come to it with an open mind and an open heart, you will understand why it has become so popular around the world and millions of people have gone on to learn it for themselves and to help their loved ones.
A typical treatment
After a brief chat at the beginning, you will be invited to lie down fully clothed on the Reiki couch, and Ama will place her hands very lightly on your body or just above in a series of hand positions (stomach, heart, neck, head, legs etc) where she will stay for a couple of minutes.
An average treatment lasts for one hour, but you can have a shorter session (40 minutes) or a longer one (90 minutes)
When?
Call any time during the week for a treatment within the hour, or to book your session in advance.

07941 683797 / amadoula@me.com
SIGN ME UP!
If you would like to receive regular news, updates and offers from VBG, please sign up here...

Tel: 01983 855397  |  Ventnor Botanic Garden, Undercliff Drive, Ventnor, Isle of Wight, PO38 1UL