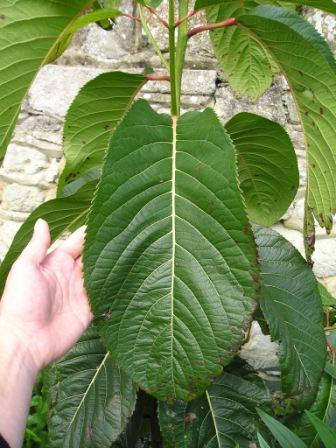 The Flacourtiaceae is a rarely to be marvelled plant family whose distribution tends towards the tropical.  From a horticultural perspective, its members are hardly of the most intense floristic beauty.  For the botanist, the floral structure is unusual and instantly recognisable.  For the plant collector it holds glimpses of possibility, particularly in the most sheltered parts of Britain, VBG included.  Idesia and Azara are represented at our garden with choice accessions of both, from RBG Kew and Sir Harold Hillier respectively.  We also now boast a specimen of Itoa orientalis, very laudable in cultivation, originally from warm forests of Yunnan and Vietnam.
My previous garden in the Midlands is where I first encountered Itoa.  My employer was, and still is, a "stamp collector" of plants, whose self imposed remit was to hold the most comprehensive post-war collection of hardy woody plants in private hands in the UK.  He has most certainly succeeded, and if not held back by being in a remarkably bitter location and with a soil pH only just below 7, who knows what he may have achieved.  Into this bleak prospect were delivered three small specimens of Itoa, these were indeed outstanding plants, huge simple leaves, slightly red and coriaceous when young.  They died before the worst frosts began.
Finding exciting new plants, particularly those with little or no apparent information (you'll find no printed reference to Itoa in Hilliers, Bean nor RHS) is always notable, so the name lodged in my mind.  Coming to Ventnor obviously opened extraordinary doors horticulturally, not least a garden able to support rarities such as Itoa, so I began looking.  The internet offered little hope, but a chance look through an out of date journal revealed a garden in Northern Ireland who claimed a plant.  I sent letters and received no reply, phone calls went unanswered.  By chance I rang again and spoke to the son of the gardens' owner who informed me the garden had fallen on hard times, but there may be a specimen next to a wall, I held while he investigated.  He returned to say yes, there was indeed.  A flat wall shrub with small glossy leaves and catkins.  My heart sank, he was describing Itea.
Some time later I had the good fortune to share this story with Nick Macer proprietor of Pan Global Plants, who suggested I should try Tom Hudson at Tregrehan Garden in Cornwall.  Quickly arranged, with the promise of a return specimen of Mallotus japonicus, Tom sent over a small plant almost straight away and it took position in our nursery with a label announcing "There are two of these in Britain, and this is one of them."  We planted out in our newly created terraces below the library in March 2011 and the specimen is now nearly 2m high, so already well on its way.  With the late, warm Autumn and a beneficial winter we should soon have some good hardened wood to see this very rare specimen into the future.