What's Flowering
This January there are some curiosities to be found for those with a keen eye.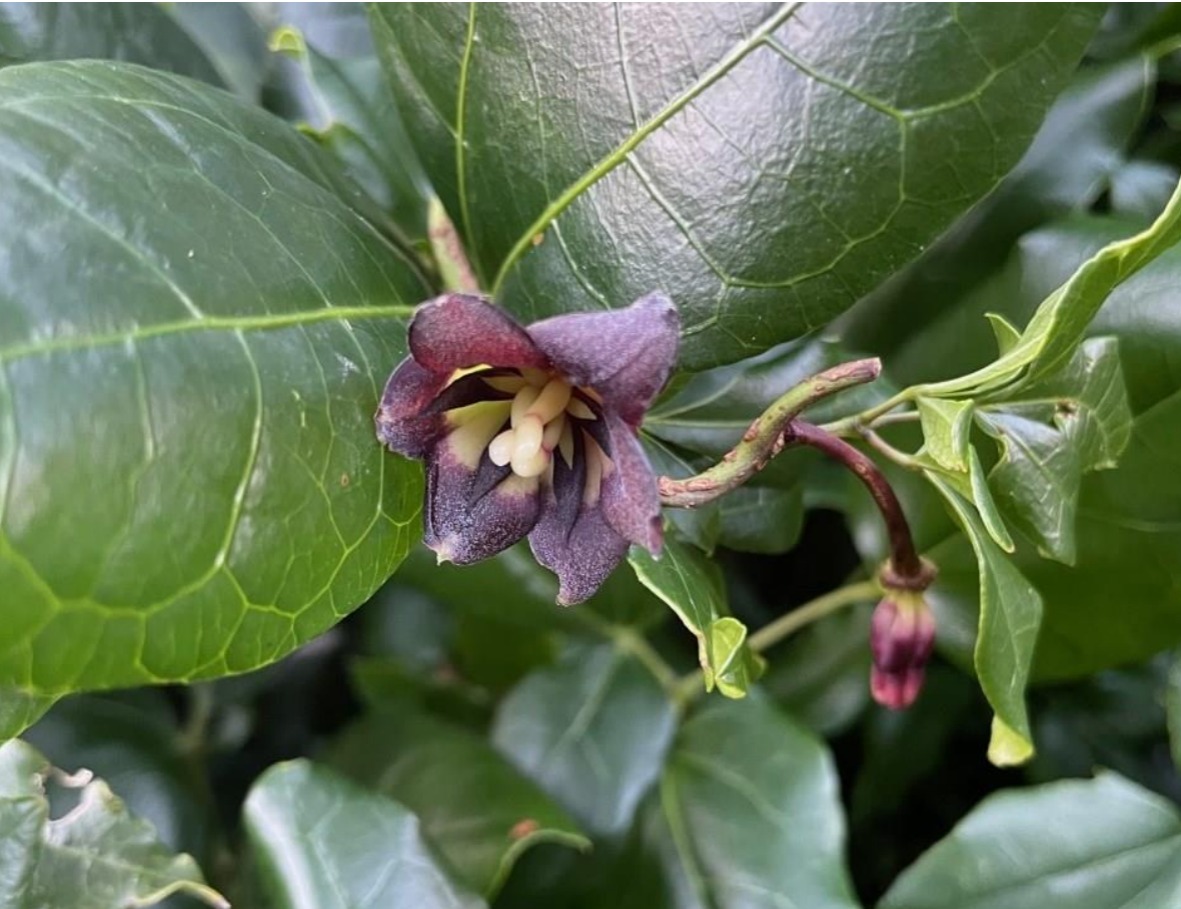 Lardizabala internata
Lardizabala internata, is a liane from Central Chile. The flowers of this plant are hard to find but have a singular structure befitting this monotypic genus. Peculiar but incredibly sweet fruit may follow, but these are also highly inconspicuous. The climber may be found in the Walled Garden, best viewed from the steps ascending to the Olive Grove.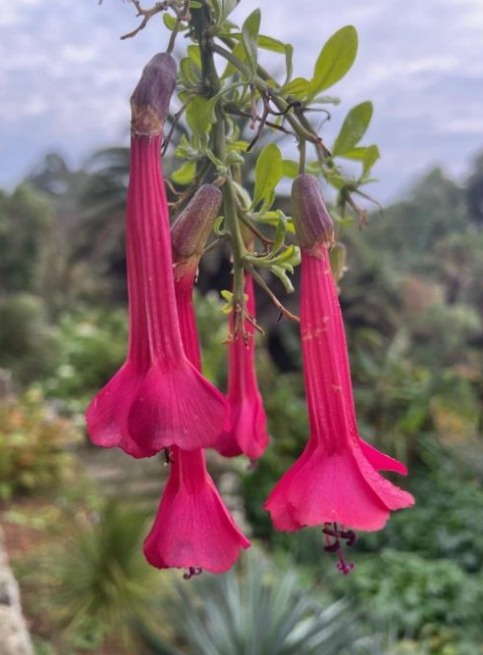 Cantua buxifolia
In the experimental garden below the café is Cantua buxifolia". These are truly conservatory plants, but the shrub here has been growing since 2009. Collected by plantsman Bob Brown, it braved the cold glasshouses of Gloucestershire before arriving with us, only to die, but survive as propagated stock in 2010. This propagule itself succumbed in 2011 and was reintroduced once more in 2012. This plant is now very shrubby, its wood enduring -4°C during the "Beast from the East" in 2018, flowering here in January 2023.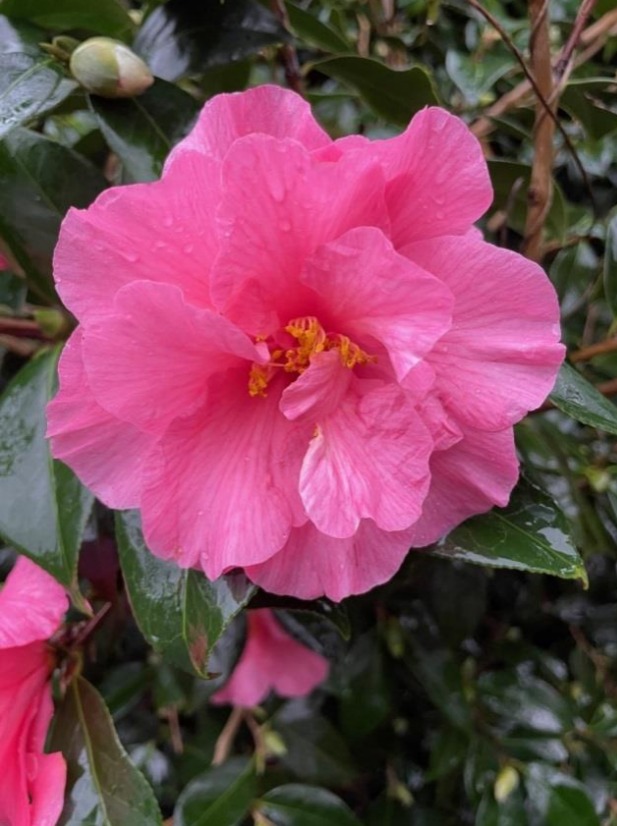 Camellia San Dimas
Spring flowering Camellias are opening on the terraces next to the Further East development.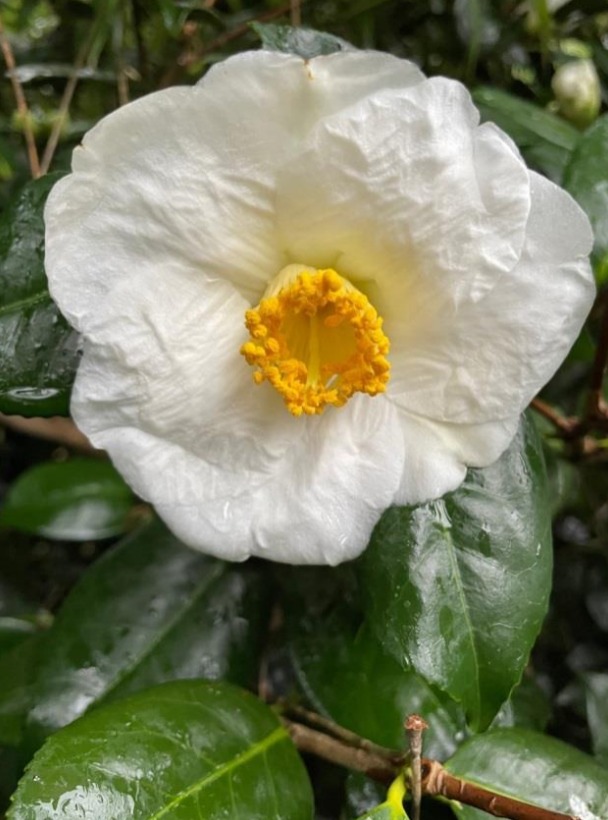 Camellia grisjii
Spring flowering Camellias are opening on the terraces next to the Further East development.
Camellia Contribution
Spring flowering Camellias are opening on the terraces next to the Further East development.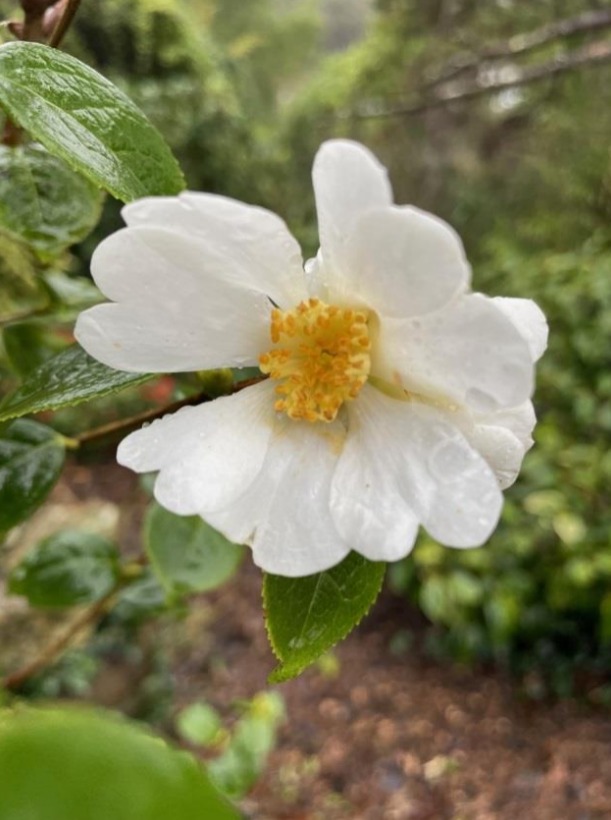 Camellia Alba Simplex
Spring flowering Camellias are opening on the terraces next to the Further East development.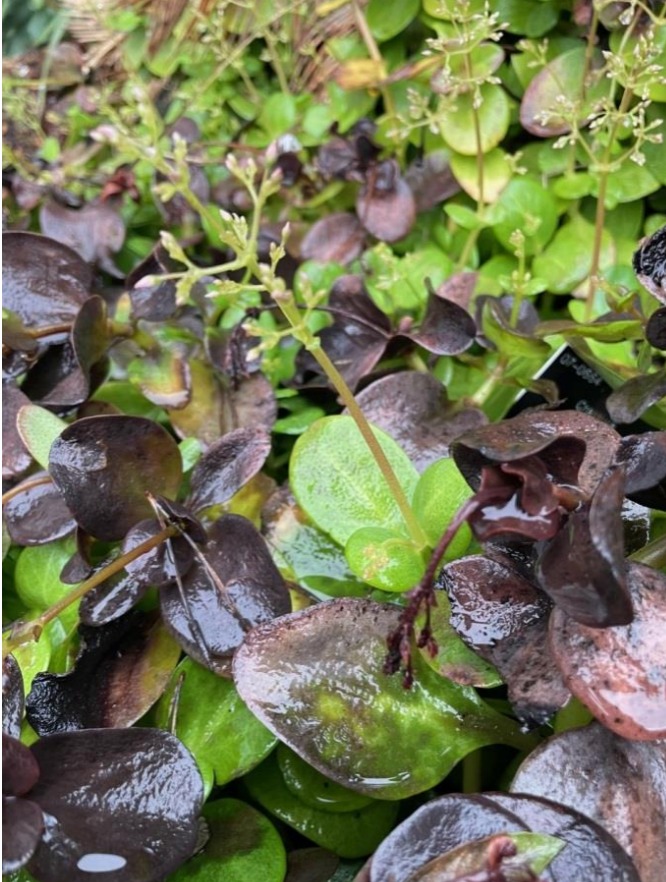 Crassula multicava
Crassula multicava is a borderline hardy succulent within our Experimental Garden. A native of South Africa, particularly the mountainous regions of Natal, Eastern and Southern Cape, we found it carpeting a greenhouse floor in Cornwall in 2007. Temperature less than 0°C will burn its leaves, as you can see from frost damage in December, but from beneath the dead leaves emerges new growth already. These short radiant frosts are found to create limited surface damage. We leave these dead leaves in place to protect the shrouded, soft growth beneath.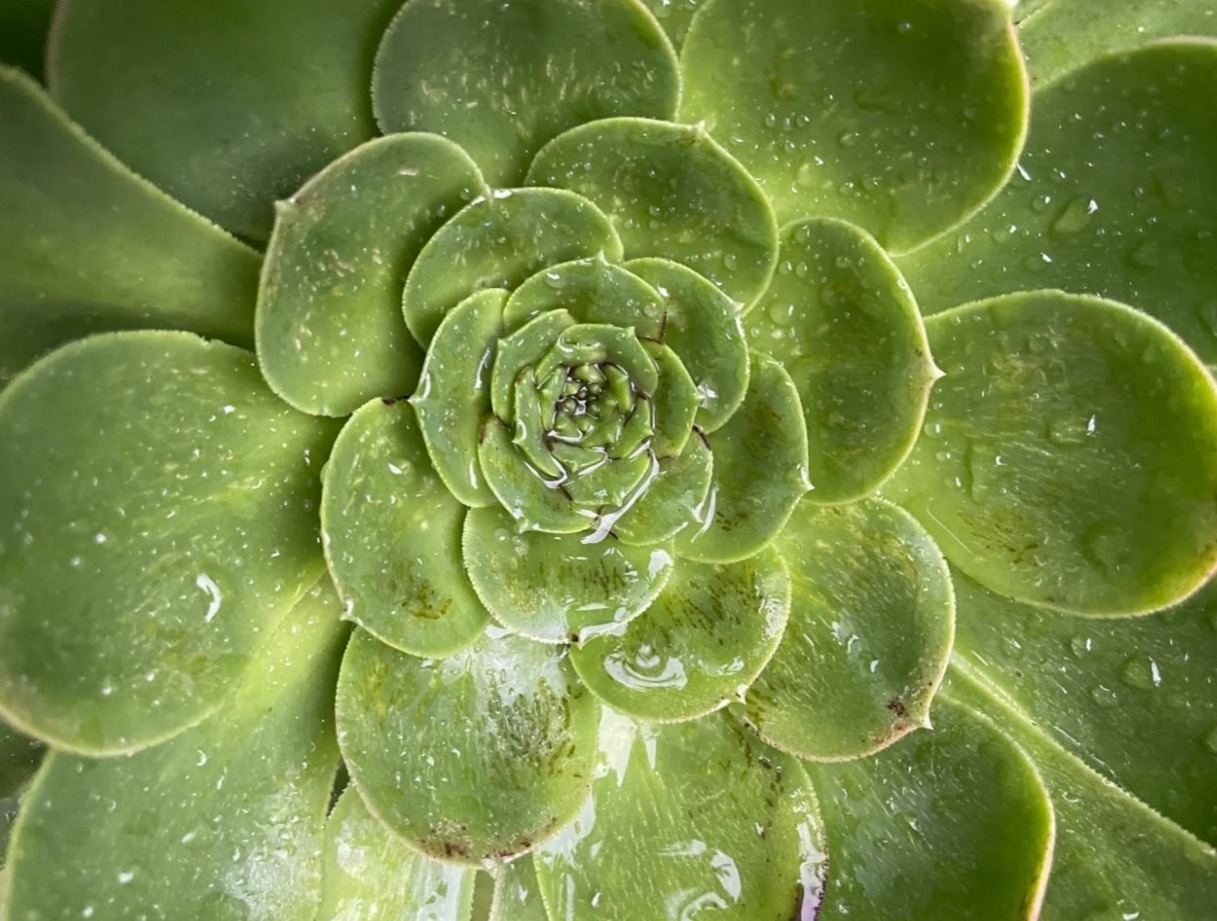 Aeonium sp.
Aeonium sp. naturalised on the cascade of the Medicinal Garden. Another high risk plant for frost, unscathed in 2023. Winter wet is as much as a tormentor as cold for these arid loving plants from the Canary Isles. They seed into impossibly dry crevices where nothing else can survive.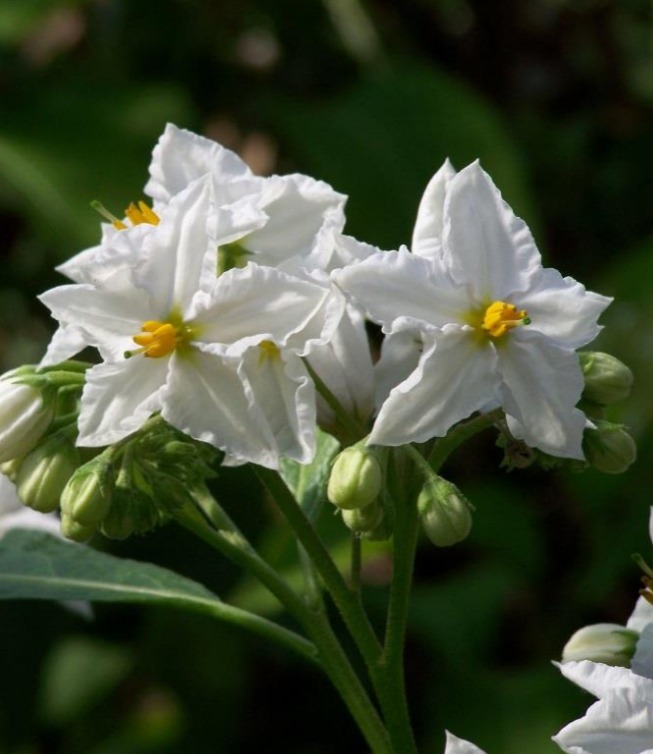 Solanum bonariense
Solanum bonariense arrived at VBG in 2006 from a commercial conservatory plant importer, where a single plant was kept labelled "unknown". It took two years to flower here, and then was clearly seen to be in the Solanaceae family. Complete determination didn't come until expert in alien plants Eric Clement was invited to VBG by Dr Colin Pope. This plant is native to South America, but has become naturalised in the Mediterranean. Find it in our Medicinal Garden.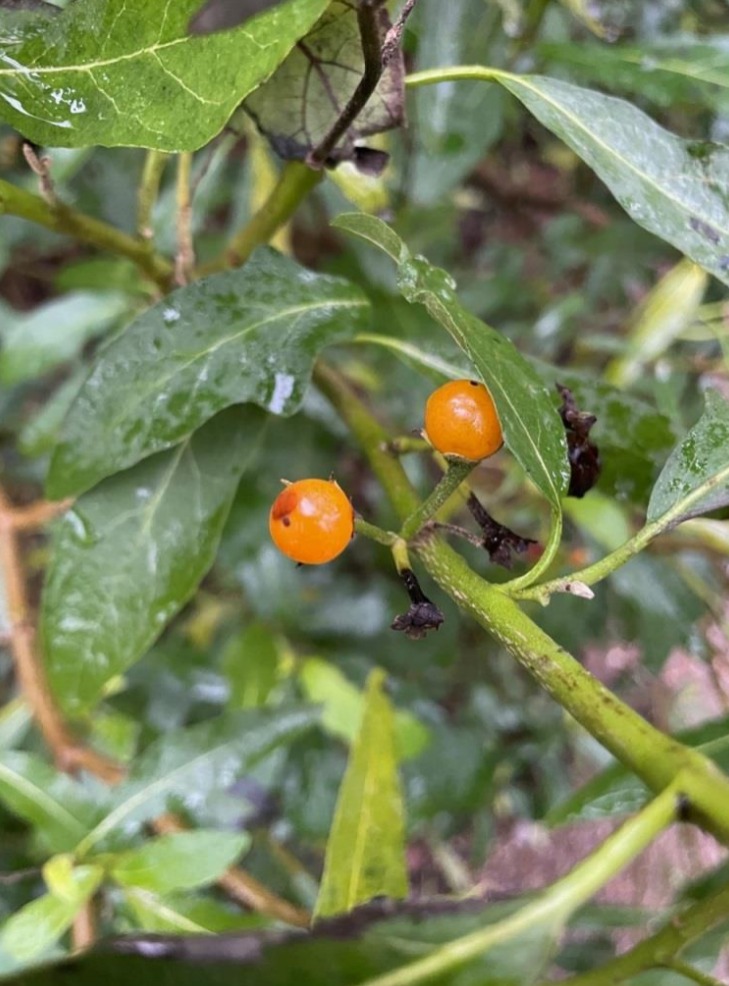 the fruit of Solanum bonariense
It was examination of this fruit that led Clement to his diagnosis, the genus is broken down to species level by its fruits in some cases. Herein lies a potential problem with this plant. Although tricky in our microclimate (it hates frost), it is now seeding freely and its offspring are spreading. Globally, one factor leading to biodiversity loss is the spread of alien plants. This plant has established itself in several new locations outside of South America. The general climate of the Isle of Wight is too cold for this to happen here, but climate change has already allowed the plant to establish at VBG, where in 15 years it has progressed from risky to weedy.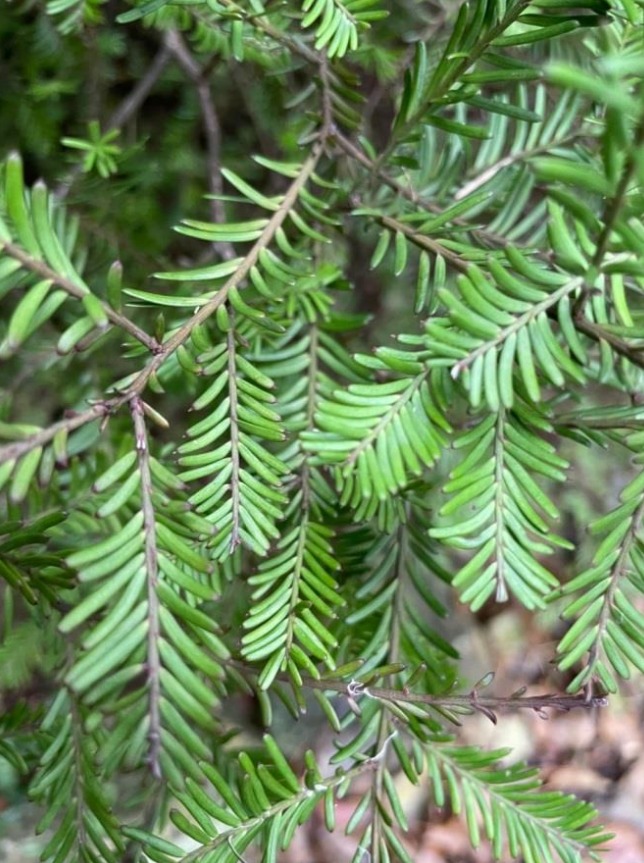 Prumnopitys taxifolia
On the Top Lawn you may find a very rare conifer from New Zealand, Prumnopitys taxifolia. Most of the year this plant looks very dead indeed, in fact it has nearly been dug up on more than one occasion for looking dead. This talent is arguably its best self defence in the wild.
The style of growth Prumnopitys shows is referred to as divarication. Many genera of both flowering and cone bearing trees and shrubs exhibit divarication. Divaricated growth has spindly, angular branches, very reduced needle like growth for leaves, and often a browny-yellow colour. Divaricated plants are notoriously hard to tell apart. It is postulated this habit is an evolved defence against herbivorous browsing by ground dwelling birds whose brain does not register the appearance with food. (Mammals are not naturally present where divaricates have evolved).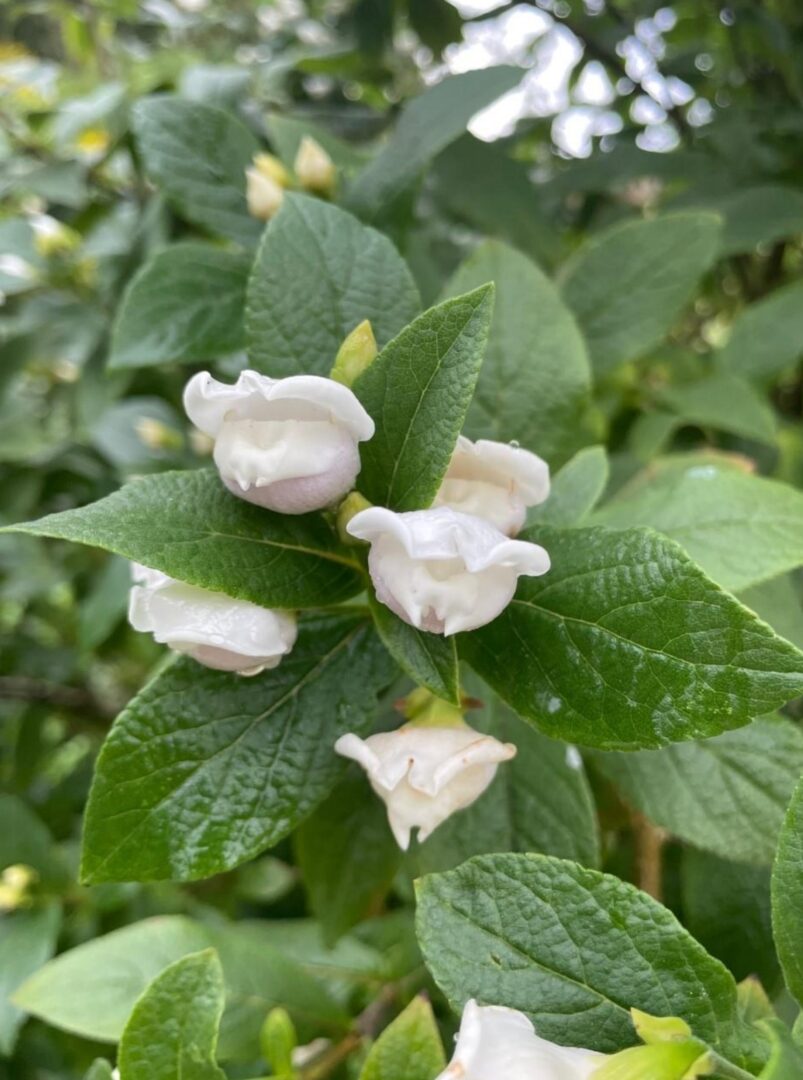 Bowkeria cymosa
Finally,here is an image of Bowkeria cymosa a rare, shrubby relative of the foxglove family. We have two plants in the South African section, one superior in flower to the other, from two different sources in South Africa. Bowkeria cymosa was one of the 174 different types of plant were recorded in our New Year Day flower count for 2023.This is the lowest figure for some time but reflects the cold snap of December followed by the long wet and overcast run in though the festive season. As has been noted before, Asian plants that are long established in horticulture for their winter flowering did well. A surprise came from the early flowering of the Chinese Magnolia campbellii var. alba which commenced on 20th December and continues through to today.
Tel: 01983 855397  |  Ventnor Botanic Garden Community Company C.I.C  | Company Number: 07976468 | Registered Address: Undercliff Drive, Ventnor, Isle of Wight, PO38 1UL