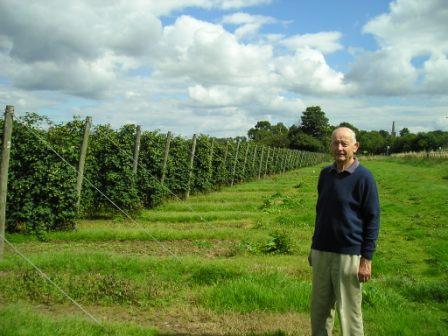 With the hops from this years picking stowed in the van it was time for the annual pilgrimage to Hereford where our hop growing expert and advisor, Peter Davies (above), was waiting at the drying facility near Dormington.  The journey, being too long for a single purpose, is an opportunity to visit some nurseries to purchase plants with money generously donated by the Friends.  This year we had an added bonus, courtesy of  Simon Goodenough at the National Botanic Garden of Wales, to access a surplus of Australasian plants.
We visited Wales on a dull, rainy day and to the amazement of everybody, crammed everything into the van.  From here we returned to Hereford and decanted this huge collection at the hop drier in order to reload the now dried hops.  The staff at the drying facility were initially bemused to see a huge lump of the Australian outback belch out all over the tarmac.  They were then concerned that they might have to look after the strange spiny shrubs and gum trees in little pots as they rolled and blew about in the wind.  Finally they were just annoyed that the whole lot was in the way of their forklift.  Before they could think of anything else, we were loaded up and off to get the hops packed.
Dried hops have an intensity of smell which coats everything in their immediate vicinity, so cooped in the van with 30 kilos of them, quickly smelled like a couple of vagrants locked in a pub with a key to the cellar.  Carrying the nets into the packing factory our hands were yellow from the lupuline glands and the delivery note became as tacky as a flypaper.  On return to Dormington, the van was loaded again (a pattern of activity repeated every time we bought new plants as Jason devised ever intriguing ways of getting too many plants into too small a space) and we bid Hereford adieu with a cheery "See you next year".
We were now way ahead of schedule, so took the opportunity to fit in three nurseries in Somerset and Devon.  From these we gained some hardy Fuchsias, a collection of high risk specie Pelargoniums, some natural provenance Aloes and a strange entity in a squat pot labelled "Unknown.  Might be interesting."
The toll of three 13 hour days, over 800 miles driving a white van, not to mention the ever pervading aroma of hops and diet of motorway service station sandwiches invariably takes its toll, so it was good to head off at dawn on the last day to purchase new Agapanthus plants from Dick Fulcher at Pine Cottage Plants in Devon.  Dick is a great plantsman and had a rifle through our stock as Jason, once again, emptied the van.  Agapanthus are easy to pack, but when you are confronted with over 400 cultivars, some in pots you could hide inside, a line has to be drawn somewhere.  Sacrificing quantity for quality we picked the best of the giants and the best of Dick's newest cultivars.  Agapanthus "Big Ben" has a name to live up to…..