REPORT OF THE 40TH BIRTHDAY CELEBRATIONS AT VENTNOR BOTANIC GARDEN ON 21ST JUNE 2012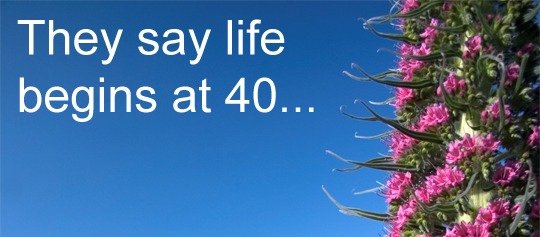 The Ventnor Botanic Garden was opened by Lord Louis Mountbatten on 21st July 1972 and to mark the occasion of the 40th Anniversary, the new Community Interest Company, led by John Curtis, threw a party to celebrate past achievements and the exciting future for the Garden.   About 100 members of the Friends and supporters gathered on a chilly, blustery evening.
Jonyth Hill chronicled history of the site after the closure of the National Hospital for Diseases of the Chest in 1964 and saluted the founders of the Garden.   Ventnor Urban District Council agreed to a request to open it as a Botanic Garden with the advice of Harold Lanfear and Mona Zink, who had founded the IW Botanic Garden Society.  Sir Harold Hillier planned the new landscaping and donated many plants from his Nursery near Winchester.   Roy Dore supervised the clearing of the overgrown 22 acres from 1970 with just three gardeners and no mechanical tools other than a lawn mower.
The 40th birthday celebrants followed guides along the footsteps Lord Mountbatten took on the opening afternoon and looked at buildings, tress, and walled gardens connected with the old hospital.   Everyone then gathered in the Cafe for Pimms and lively canapes including Welsh Rarebit laced with homegrown VBG  Dorset Naga chillies made by the talented chef, Martyn Cutler.   Martyn touched off the pyrotechnics on his massive VBG 40 cake complete with flowers and dusted with chocolate vermicelli.
The cake was cut ceremoniously by the Island's Lord Lieutenant, Major General Martin White amid general applause and reaction to the hot chillies.  He welcomed ex-Curator, Simon Goodenough and read out messages of best wishes from the Prince of Wales, Alan Titchmarsh, Dr Steven Dowbiggin of the Worshipful Company of Gardeners, Debs Goodenough and the Friends' President, Brian Kidd.
Other special guests included John Hillier, Sir Harold's son, and Keith Brewer, one of the gardeners who cleared the site and worked there until recent years.
John Curtis looked ahead to the next 125 years, the length of the lease the CIC will shortly be signing with the IoW Council.   He committed, "Whatever we do here and the innovations we introduce will only stand firmly on the shoulders of the past."  Chris Kidd thanked John for his efforts and underlined that the vision that built the finest subtropical botanic garden in Britain provided a solid starting point for the future .   In closing Chris set out the next milestone, "We will be working towards a spectacular 50th as an increasingly international centre of botanical excellence."