Heralded by the recent warm weather, the Garden's newest cold filtered beer is now on sale.
August 1st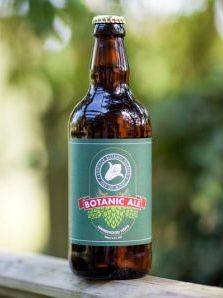 The first batch of our latest cold filtered beer made from last years crop of hand picked hops from our very own, unique Hop Yard, is now available.  We are selling the beer, called Botanic Ale, from the Plantation Room, edulis and our Gift Shop
Botanic Ale is also soon to be available on draught from good pubs both on the island and on the south coast.
Brewed on the island by Yates' Brewery this golden ale is a treat for locals and visitors alike. Bottled it makes the perfect gift or memento from the Garden, or crack open a cold one on the Terrace in the sun.  At 4.3% ABV it is lighter than its popular bottle conditioned partner, TropicAle, with a healthy hoppy taste.