Ventnor Botanic Garden showcasing New Green Deal Technologies
Ventnor Botanic Garden's Tropical Display House will soon be heated via a new 15kw photovoltaic array system. The Garden plans to use the technology to heat the pool where we are growing two species of Giant Waterlily. The solar arrays will maintain the 27°C the waterlily needs to thrive as it does in the Amazon; they will heat The Tropical House throughout the winter to a minimum of 15°C.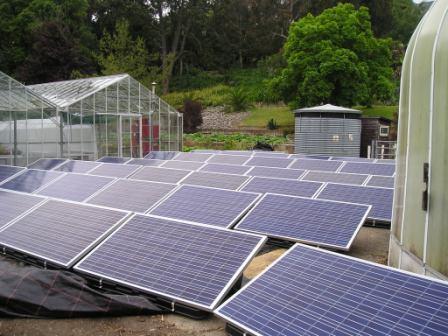 This innovative project will be a U.K. first  and marks a huge leap forward in the redevelopment of Ventnor Botanic Garden and its aim to become  an EcoCentre for the island.
Other technologies will also be installed around the site including new LED lighting systems, an air source heat pump and under floor heating for the newly refurbished Garden Gallery, and solar thermal for the refurbished Signal Point Cottage. Ventnor Botanic Garden hopes to become the go-to destination for those interested in sustainability and eco-friendly technologies.
John Curtis, Director of Ventnor Botanic Garden CIC said, 'This is an important step in rejuvenating Ventnor Botanic Garden. We believe low carbon technologies need to be 'on stage' at VBG so visitors can see them working and learn all about sustainability first hand.'
Chris Kidd, Curator of Ventnor Botanic Garden added, 'We have grown Giant Waterlilies here in the past but this is the first time we, or anybody else to my knowledge,  has done so using such technologies. This is another landmark in our journey to become completely carbon neutral by heating our Tropical House without the use of fossil fuels.'
Following the installation of these systems, an exhibition will be created with support from Ecoisland and Wightlink. Visitors to the Garden will be able to learn all about the technologies in place and how similar systems can help them to reduce their own energy consumption. Ecoisland will also be working with Southampton Solent University, Ryde School and The Island Innovation Trust to support an educational programme that aims to inspire children from around the Island.
Ecoisland and Ventnor Botanic Garden are continuing to work in partnership with SSE, monitoring energy usage and working to improve efficiency at VBG. Future plans include an electric vehicle charging point and further use of photovoltaic systems.