In this walk we took a look at the Rock and Scree Bank and Signal Point House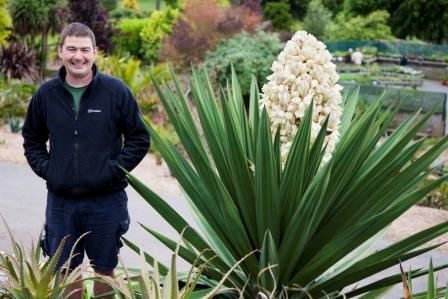 On this walk we discovered how serendipity, luck, marine ply and Julian Winslow had played a part in the genesis of the Rock and Scree Bank.  The initial plantings in 2002 were experimental, consisting of evacuee cacti and succulents form the Temperate House.  Nobody expected these plants to survive the winter in any shape at all, but we were all surprised.  The juniper strewn bank next to the Temperate House was cleared and terraced with some second hand plywood sheets, a donation from the island's Bardon Vectis concrete block factory.  The success of this planting was extended across the access road to cover a far larger area below Signal Point thanks to a Lottery grant gained by the VBG Friend's Society.  This increased area allowed planting with long reaching ambitions, including an avenue of Chilean Wine Palms Jubaea chilense which will not come in to their own for perhaps fifty or sixty years.  This whole area was officially opened by the Prince of Wales in 2009.  Alex Kimovski, manager of this area, introduced himself to the group and talked about some of the plants in flower.
The group then took a view inside Signal Point house, the former private residence within the grounds of VBG.  A discussion took place on the possible uses that could be made of this Victorian house after it is renovated by the CIC over the summer.  Everyone was in agreement that the area is a very good suntrap, and this was further evidenced by the newly flowering Puya nearby, scampering wall lizards and Opuntia cacti in the throes of a new flush of pads and flowers.