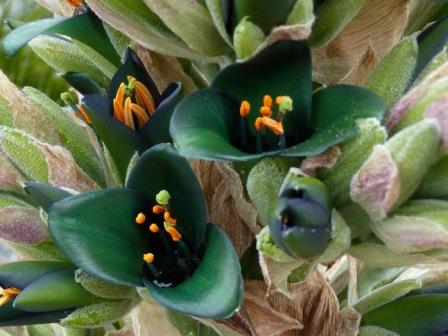 Plant Heritage, formerly NCCPG, has officially recognised the collections of Puya held at VBG and awarded National Collection status for the Garden's hardy and half hardy Puya.  VBG has over 80 accessions representing more than 25 taxa in 17 species of Puya.  This is the largest collection of Puya in the UK and is being used by scientists from both home and abroad to study the taxonomy of the group.
Few gardens in Britain are able to grow Puya at all, let alone out of doors.  VBG is able to do this because of its remarkable microclimate in which frosts are a rare occurance.
Puya tend to flower in the spring and summer in our climate, some species have flower spikes in excess of 3m tall with extraordinarily coloured flowers.  Flower colour can range from yellow through to an enigmatic blue the colour of a magpie's wing.
VBG will soon have a permanant exhibition of pictures and information on these enigmatic, intriguing and difficult plants.