Unusual summer visitor to garden
August 3rd
Rare moth caterpillars discovered amongst the olives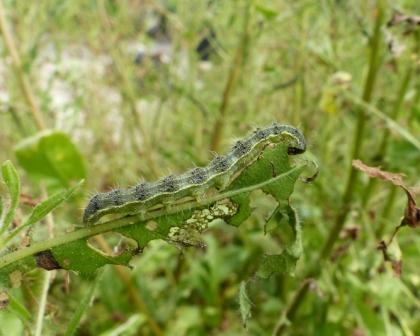 Caterpillars of a rare UK migrant moth have been discovered amongst the olive trees at Ventnor Botanic Garden.  The Bordered Straw Moth caterpillars were found in the garden's olive grove feasting on the leaves of a daisy relative, Dittrichia viscosa, that grows freely amongst the olives and other Mediterranean plant species there.
Identification was made by Dr Colin Pope, retired ecologist, who now volunteers in the curation of the garden. Colin said: "This is a migrant species from the Mediterranean which occasionally reaches our shores but this year is unusual  because there are so many of them – it's a Bordered Straw summer and many people are seeing them for the first time. So, it's really rather exciting that we've got them in the Garden and it's a phenomenon unlikely to be repeated for some time!"
Visitors to the garden are encouraged to take their cameras to capture the rare moth caterpillars on film. Its likely that the best time to see them is within the next 7 to 10 days. Enthusiastic moth fanatics should ask for directions at the admission gate on arrival.