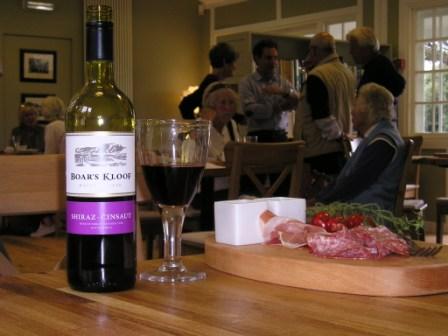 We have been busy building a new space in the library to relax, read, have a Barista coffee, an elegant loose leaf tea, a glass of fine wine or a light ultra-fresh lunch.
The
"but I only want a cup of coffee" chant we heard this summer begged a response – an inviting open door right off the new courtyard.  The library as we visualised it should offer a comfortable place to our Friends and visitors to read the day's papers laid out on the coffee table, or our periodicals and books beside a cosy woodstove to cure the winter blues.  And finally, we wanted to give our chef, Martyn Cutler, a new platform to showcase his talents.  We also felt it would give another boost to staff morale if we installed a tall wine rack and a shiny new coffee machine closer to their desks…!
The name, The Plantation Room, picks up on the unique colonial architecture of the covered porch and the delicate windows of the best remaining building from the old Hospital.  In the warmer months we will run tables out onto the wooden terrace overlooking the Palm and Medicinal Gardens. 
Please come join us for a glass of wine from (you guessed it!) our favourite sub-tropical regions – New Zealand, Mediterranean, Australia, Americas, and South Africa.  
   Something exciting is happening at Ventnor Botanic Garden!