Read more to find out about our new head chef, Brad Roe & to see his interview.
May 4th
The ultimate botanic dining experience
Ventnor Botanic Garden's edulis restaurant is now open daily from 12pm-4pm & introducing our new Head Chef, Brad Roe.
From garden to plate with fresh & delicious ingredients, each plate is a portrait of flavours and mouthwatering scents. Make it your turn to try the delights from around the garden!
Contact us on 01983 855397 or info@botanic.co.uk for enquiries & booking.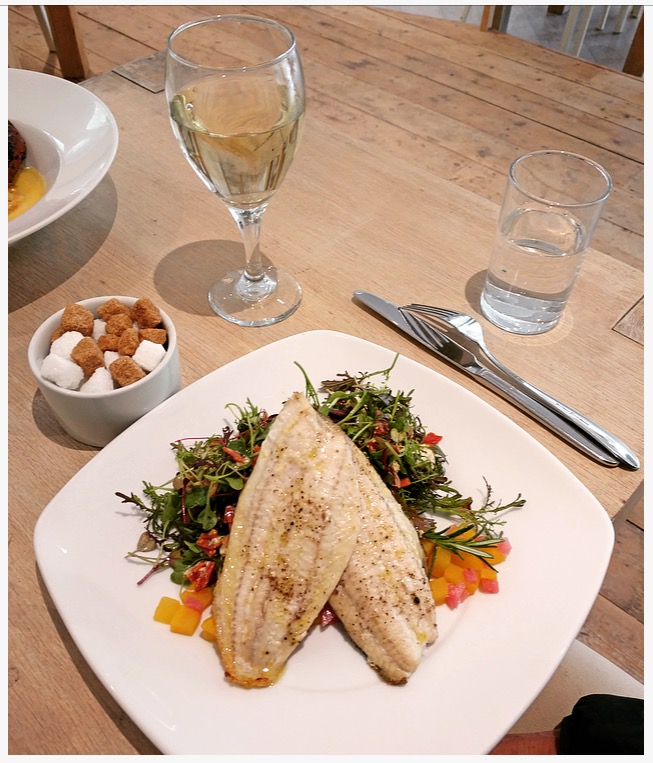 1. How would you describe your culinary style?
"My Culinary style would be classical European with an American flair. I like to mix up new combinations of ingredients and let the plate come together, during this cooking process a dish will almost kind of let you know that you've created something special. Respect each ingredient in your dish, give it some TLC and you'll always have a solid dish with character and most importantly, taste."
2. What's your greatest career achievement to date?
"Developing my own cookbook which will be published later this year. My book is designed to help the cook with little or no experience to create a gourmet plate of food. It's very nearly complete, just a few more desserts and we're ready to publish."
3. Who's your biggest foodie hero and why?
"Grant Achatz, chef/owner of Alinea Restaurant, Chicago. Grant's a culinary genius, always pushing the boundaries and creating new ideas and techniques. He won best restaurant of the year in USA whilst undergoing chemotherapy! And he has a great view of cooking – "rules, there are no rules, do whatever you want!"
4. What excites you most about coming to work at Ventnor Botanic Garden?
"Having the opportunity to be able to work with a cornucopia of plants from around the world on my kitchen's back door step! From garden to table!"
5. The name of our restaurant, 'edulis' means edible in Latin. Can you explain what that concept means to you and how you plan to interpret it?
"We have a unique opportunity to create an experience like no other restaurant has done before! That is to grow our own produce on site using our vast garden and highly skilled gardeners to create a dining experience that gives the guest a plate of food that has not only been grown and nurtured on site but is also hand-crafted with a creative flare! At the end of the day, if one of our guests goes home and is inspired to start using locally sourced ingredients and get a little creative in the kitchen, then I would be glad to spark that connection!"
6. Which ingredient are you most excited about cooking with from the Garden?
"Eucalyptus! I have quite a few ideas buzzing about my head, I'm planning to try out a bourbon smoked eucalyptus sea salt soon! I'm also quite fond of cactus and will dabble with almost anything that is edible!"
7. If you wanted to introduce someone to the Isle of Wight through food alone, what 3 course meal would you create that represents the Island at its best?
"I would treat them to our Island's quality ingredients.
Starter – IOW crab from Ventnor Haven Fishery: IOW crab tostada, smoked garlic salsa, guacamole, lime pickled kohlrabi
Main Course – Brownriggs duck: Onion seed crusted duck breast, IOW blue cheese au gratin, purple sprouting broccoli, charred beetroot cream
Dessert – Dark rum chocolate brownie, VBG rosehip & berry coulis"
8. What is your favourite food combination?
"A nice wagyu ribeye steak with a charred poblano salsa"
9. What kitchen gadget could you not live without?
"I believe every kitchen needs a char-griddle."
10. What are your five home store-cupboard essentials?
"Sea salt, smoked paprika, Cholula Hot Sauce, hazelnut coffee creamer, and a good olive oil."
11. What are you hoping to achieve first at Ventnor Botanic Garden?
My main goal is to create a buzz around the Island so that edulis is known as a great food destination which uses unique ingredients from our own Garden. I'm also looking forward to creating new and unique products to sell that are made using the Garden's vast range of plants including a eucalyptus sea salt which I created just last week.