Buy our most popular plants online
June 3rd
We are pleased to offer for the first time our most popular plants for sale online for mail order.
Jason has selected the plants most requested from our Plant Sales and added to the list some of the plants which VBG has made its own, including the classic Echium pininana Tree Echium.  The list also includes some plants which we have named here at VBG such as the enormous flower headed Agapanthus "Ventnor Hybrid" and the fiery Lampranthus "Ventnor Blaze".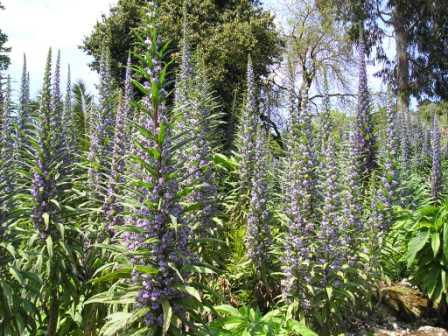 Periodically we will add some of our more enigmatic shrubs.  At the moment we have on offer Melaleuca alternifolia.  Many nurseries offer plants claiming tey are Tea Trees, but this is the genuine Tea Tree from which Tea Tree Oil is purified.
Plants are mailed by Royal Mail usually within two working days of receipt of order.  Paying by PayPal gives the peace of mind of online security.  *Click HERE* to be redirected straight to our Plant Sales Online Shop.