See the plants that survived the reign of the dinosaurs
August 1st
Walking with Dinosaur Plants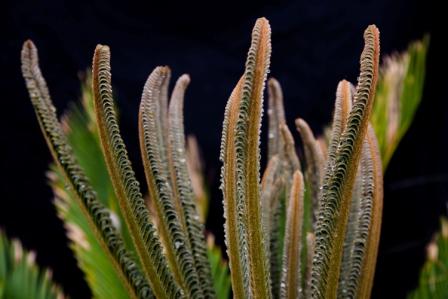 As the Isle of Wight is set to go Dino-crazy this summer, Ventnor Botanic Garden is delighted to announce it will be joining in with the fun with, Walking with Dinosaur Plants; a summer of activities aiming to bring the Dinosaur experience to life.
Throughout the summer an exhibition of fossilised plants will be on show in the Visitor Centre. The collection is very kindly on loan from Dinosaur Isle and includes Monkey Puzzle tree trunks, Cycads and Ferns. Visitors will then be able to collect their Walking with Dinosaur Plants Trail Map (when paying full admission) and head out into the Garden to discover the modern relatives of these prehistoric plants. With the Trail Map adults and children alike will be able to learn all about these plants as well as getting a firsthand experience of what they look, feel and smell like.
All of the fossil specimens date back to the Cretaceous period of 125-110 million years ago. They were all collected from the south coast of the Isle of Wight from the eroding cliffs near Atherfield. All the fossils on show relate to modern plants that can be found growing at Ventnor Botanic Garden. Examples include, the Monkey Puzzle Tree, Modern Gymnosperms, Ginkgo Tree and Modern Tree Ferns.
Every Friday throughout August at 11am and 2pm, Guided Walks will be led by a member of the VBG Team. Visitors will be able to learn even more about the plants growing in the Garden, benefitting from their expert knowledge and the VIP treatment.
John Curtis, Director of Ventnor Botanic Garden Community Company CIC said, 'We want our visitors to get an experience they can't get anywhere else. See the fossil, touch the plant – its brings the experience to life and we think you'll be pushed to find that somewhere else.'
Trail Maps are available to buy for £1.50 from the Gift Shop. Guided Walks will be taking place on the following dates; 2nd, 9th, 16th, 23rd and 30th August. Places on this walk are limited and so pre-booking is recommended. Guided Walks are priced at the following and include admission into the Garden, a Walking with Dinosaurs Trail Map and parking. Adults £8, Seniors £7.50, Children £6, Family tickets £20 (2 adults and up to 3 children under 16). To book a place please contact 01983 855397 or email info@botanic.co.uk. Children must be accompanied by an adult at all times.