GROUPS & COACHES
Ventnor Botanic Garden is an ideal coach party destination, with ample parking available for large vehicles. Come rain or shine, Ventnor Botanic Garden is a great place to visit. When the sun is shining visitors can walk the Gardens at their leisure and enjoy the colourful flowers in bloom. Visitors can sit out and soak up the sun whilst enjoying lunch, a refreshing drink or even an ice cream.
If cold and wet, visitors can spend time looking at the regular displays and art exhibitions taking place in The Garden Gallery. They can warm up in either of our two Cafes with a hot cup of tea or coffee, or they can step into The Tropical House. This hot and humid glass house is a living representation of nature's fight back against the ravages of man and industry. Complete with waterfall and giant pond that grows Giant Waterlilies in the summer months, our Tropical House will transport visitors to a rain forest paradise on even the coldest of days.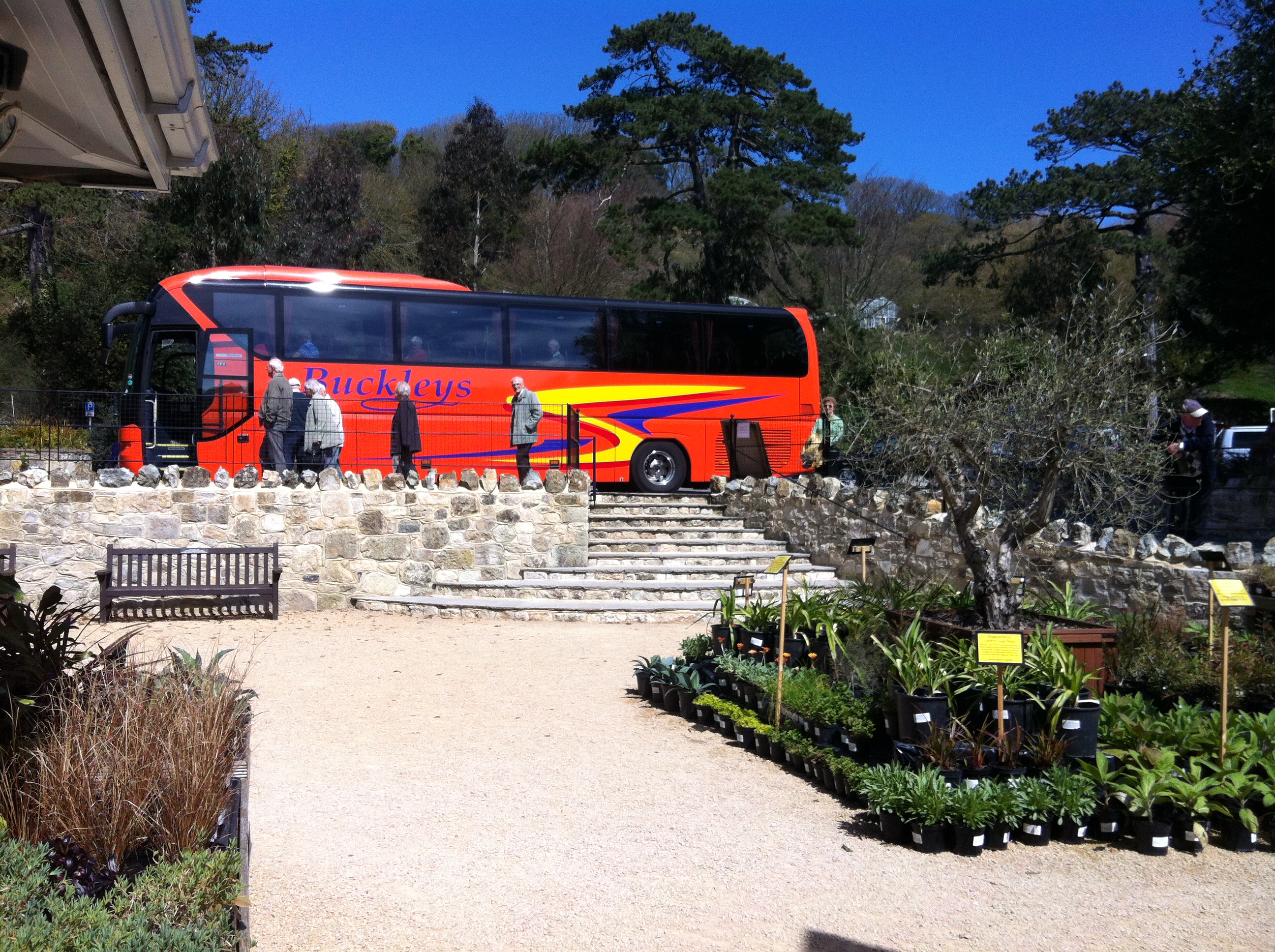 Ventnor is a very sunny town getting the most amount of sunshine hours in the UK. Where else can you stroll through Australia, the Mediterranean and South Africa – all in one lunch time! From stunning scenery, wall lizards and guided tours of the garden, secret tunnels, underground mushroom fruiting chambers and the Victorian Heritage Centre exhibition; to discovering Giant Amazonian Waterlilies, the Tropical House & Hub, art gallery, rare plants and seeds, garden produce and gifts in our garden gift shop and Botanic Ale and hopyard, you may loose track of time!
The Plantation Room Cafe
With easy access from the Coach drop off point, The Plantation Room Cafe serves steaming hot tea & coffee and delightful homemade cakes & light lunches throughout the year.Overlooking the beautifully serene and historic Palm Garden, The Plantation Room Cafe Terrace is the perfect place to sit out and enjoy the tranquillity of the sub-tropical Garden whilst making the most of the Winter sun. Not to forget our popular cream teas!
edulis Restaurant 
edulis Restaurant is set in a unique setting in the Mediterranean Garden, giving the feeling of dining al fresco within the relaxed setting of our restaurant. Head Chef Brad Roe brings a wealth of experience, from around the world including over 17 years as Executive Chef in the USA. The ethos of edulis, meaning edible in Latin, is to serve super fresh cuisine sourced locally and picked fresh from the Garden daily. Home-grown ingredients range from unique and interesting vegetables grown in our nursery beds, served alongside our exotic mushrooms, micro herbs and living-salads – ensuring that our food is literally Garden fresh. Unique Garden-made products are now available in our Shop to treat your family and friends. Many are made from rare and exotic ingredients grown here at Ventnor Botanic Garden such as our Arbutus & Strawberry Jam and Crab Pear Syrup.

Coach Prices for 2017. Booking is essential for discounted group fares.
Winter Tariff
1st November 2016 to 28th February 2017
Stop Off and Café Visit (no Garden entry) – Free
Garden Admission (all day) – £3 per person
Garden Admission and Guided Tour (English speaking guide) – £5 per person
Garden Admission and Cream Tea/ Lunch Options – From £8 per person
Summer Tariff
1st March 2017 to 31st October 2017
Stop Off and Café Visit (no Garden entry) – Free
Short Garden Visit (no more than 1 hour stop) – £3 per person
Extended Garden Visit (more than 1 hour stop) – £5 per person
Garden Admission and Guided Tour (English speaking guide) – £7 per person
Garden Admission and Cream Tea / Lunch Options – From £8 per person
Simply call or email to let us know the dates you plan to come and the size of your party.
The number to call is: 01983 855397 or info@botanic.co.uk
Also if you let us know any details on forthcoming tours to the Isle of Wight we can keep you informed of special events happening at Ventnor Botanic Garden. There's usually an art or craft exhibition going on and a variety of walks and talks are scheduled throughout the year. Please email info@botanic.co.uk to get updated list.
SIGN ME UP!
If you would like to receive regular news, updates and offers from VBG, please sign up here...

Tel: 01983 855397  |  Ventnor Botanic Garden, Undercliff Drive, Ventnor, Isle of Wight, PO38 1UL