An update from Ventnor Botanic Garden during a warm, busy summer season – There's lots happening here at the Garden!
The Living Collection at Ventnor Botanic Garden is enjoying the summer's hot dry conditions. Our subtropical plant collection is genetically suited for summer drought. The Mediterranean Garden illustrates this as the Tree Echiums bloom in May and June and seeds harden off in July and August. We have been migrating toward species that can cope with our drier, dry periods like Salvias and Palms which thrive in hotter, drier conditions.
When we say we garden on a 30-year horizon this means climate-proofing the Living Collection over time. It also means our plant communities change as they progress to maturity, we migrate understory plants starved of light under the maturing tree canopy to more open sections of the Garden.
Ventnor Botanic Garden remains one of the leading gardens developing Giant Waterlily hybrids based on the Curator's research at Kew.
In the height of summer, with an excess of light beyond 12 hours, female flowers are remaining visible until midday. This year we have continued to remove fossil fuels from heating our tropical water tank, reducing the tank water temperature and studying the effect on leaf growth and flowering to understand how to deliver the lily programme with fewer tonnes of CO2 each year.
Read an earlier post about a 3rd species of Giant Waterlilly being discovered this year by Carlos Magdelena at Kew – Read here.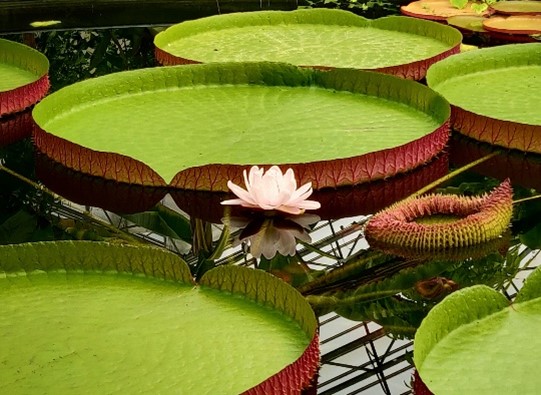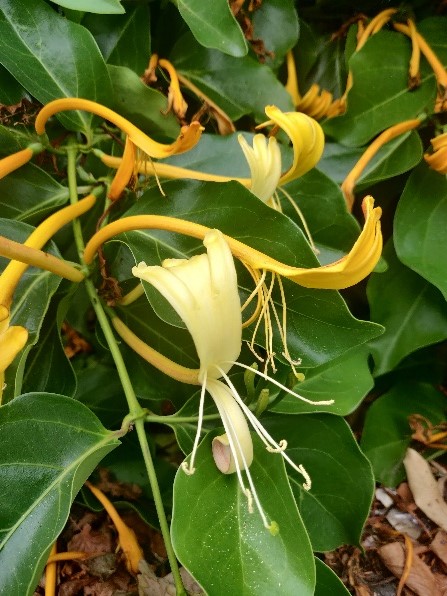 The profuse flowering on Lonicera hildebrandtiana, the Giant Burmese Honeysuckle, is a joy to behold. We are propagating this stunner so it can be more visible in another part of the Garden. This plant is traditionally a glasshouse plant, but climate change means it now grows and flowers out of doors. Similarly, in our Mediterranean Garden, Nerium oleander is blooming well.
This plant is a common roadside shrub in the Mediterranean. In the UK it is rarely grown as it likes full strong sunshine to flower. Eucalyptus leucoxylon "Rosea" is flowering strongly; red flowered gum trees are an unusual sight in the UK.
Strelitzea reginae has flowered as it never has before and we saw flowers on Metrosideros robusta. With many plants in flower, it is easy to make a link to the drought conditions at present, but the long dry period will be fully shown by flowerings in 2023 as the meristems for those are being formed already this year.
In July we welcomed Simon Creed with 10 years of experience at Kew Gardens to the Garden Staff. We look forward to the arrival of Sophie Bradley into the garden crew later this month.
The Director collected an exciting new set of palm trees selected by the Curator from Devon specialist grower, Longcombe Cross. The generation following us will marvel at the Palm Collection planted in the 2020s at Ventnor Botanic Garden just as we are spellbound by the Tracycarpus fortunei planted in the 1870s. Our buy list from Longcombe Cross is below:
Butia odorata
Butia x (Syagrus coronate x Queen)
Butia x Lytocaryum weddellianum
Chamaedorea radicalis
Archontophoenix cunninghamiana
Butia archeri
Tracycarpus Kumaon
Arenga Engleri
Rhapis excelsa
As the Australian and New Zealand Gardens progress to climax vegetation we need to create interest at ground level elsewhere in the Garden. We therefore plan to fully extend the Oriental Collection eastwards from the Torii Gate and the red lacquer footbridge into a part of the Garden never before planted.
Stepping away from the future we have continued the removal of various invasive or scavenger plants like buddleja, bramble, bind weed, ivy and nettles.
We are getting ready to say goodbye to the giant copper beech in the Mediterranean Garden as it has lost much of its core to fungus.
We would prefer to see nature pull it down and allow the natural decay cycle to create habitat, but as a public attraction, we have to cut it down before it falls. Thank you to Artist in Residence Alex Williams for his pleasing winter image of this majestic beech.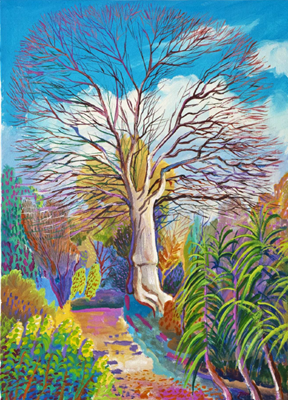 Continuing our food inches concept, a bumper crop of pak choy has flooded the edulis Restaurant kitchen in recent weeks.
We are pleased our engraving machine is back online and labels are going back into the garden alongside updated plant records in the Accessions Database.
VBG@Home, an important income stream that helps keep Ventnor Botanic Garden open, has had feedback from our most recent clients…
"I wanted to thank you for the work in the garden here in Cowes…we're very happy with the result of all the work; the garden looks just lovely already, and it will grow into itself over the next year or two.  We're very pleased, so thank you very much." And from a client in the Undercliff: "Such a great job thank you. So pleased with the quality of approach and everyone involved."