Palm Garden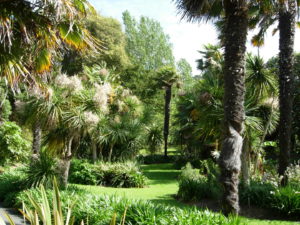 One of the few areas of the Garden surviving from the days of the hospital. This area was formerly known as the Palm Court due to the presence of the specimens of the Chusan Palm,Trachycarpus fortunei. These are the oldest palms in the British Isles, collected for Veitches Nursery and presented to Queen Victoria who deigned that they be planted here. Although this area was badly damaged in the 1987 storm, all the palms survived. So this part of the grounds was retained as a classic Victorian sub-tropical garden.
During the era of the Empire the importation of exotic plants carried on at pace. The owners of large estates vied with one another to create the most exotic looking gardens by means of bedding out these tender plants. The use of colourful Canna, Kniphofia, Hedychium, and Watsonia, creates an atmosphere of the sub-tropics reinforced with the exotic palm foliage.
SIGN ME UP!
If you would like to receive regular news, updates and offers from VBG, please sign up here...

Tel: 01983 855397  |  Ventnor Botanic Garden, Undercliff Drive, Ventnor, Isle of Wight, PO38 1UL