South African Terraces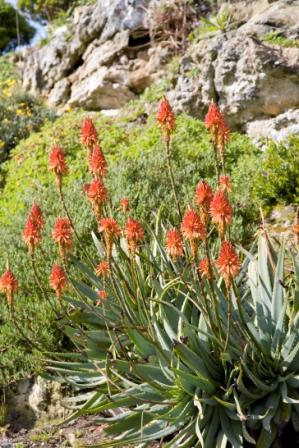 This part of the Garden was developed thanks to a Living Spaces grant awarded to the Friends of Ventnor Botanic Garden. The success of South African annuals and short lived perennials is well established at Ventnor, so here we have large expanses of both, sweeping down over hot south facing terraces. The colourful display lasts into the very depths of winter.
We then enter a nail-biting period of cold and damp which if extended could finish the whole area – in such an event a back-up stock is propagated each autumn to over winter under glass. Among the almost unnaturally coloured Lampranthus spp, look for Birds of Paradise, rare Proteas, Red Hot Pokers and reed-like Restios.
To the right, Aloe mutabilis, this plant originated at the Royal Botanic Gardens, Kew where it was grown under glass.  It was donated to VBG in 1987 and has survived out of doors since 2005.  Flowering in winter, the young buds are susceptible to the very slightest frost.
In July and August the evergreen Agapanthus  (below) come into their own, named cultivars can be found in this area.  In the Arid Garden we have a huge naturalised area of our own Agapanthus "Ventnor Hybrid".  Selections are available to purchase from the Plant Sales area or seed from our Online Shop.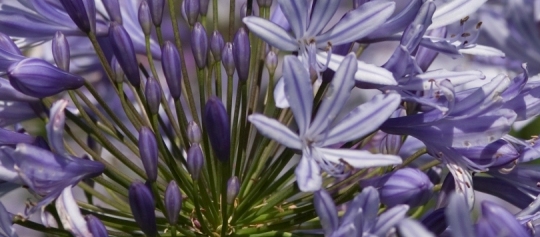 Tel: 01983 855397  |  Ventnor Botanic Garden Community Company C.I.C  | Company Number: 07976468 | Registered Address: Undercliff Drive, Ventnor, Isle of Wight, PO38 1UL