Festival of Flower Fireworks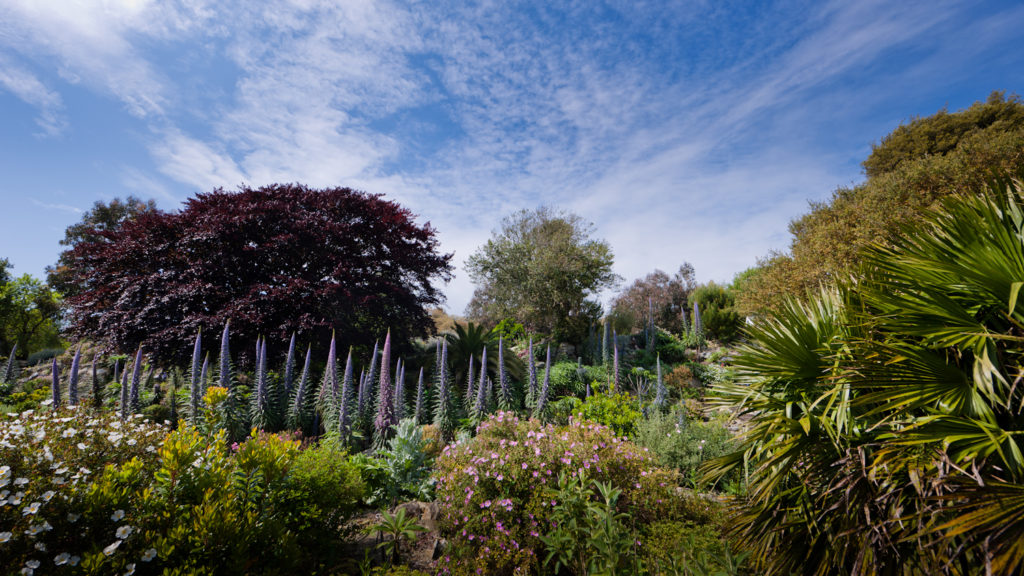 The firework display of giant Echiums is one of the best known and loved features of Ventnor Botanic Garden. Echiums are scattered throughout the garden, but our best specimens can be seen flowering in the Mediterranean Garden in May.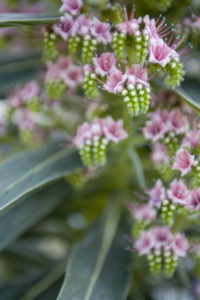 All of our Echiums come from the laurel forests of Madeira and the Canary Islands, but if you look closely, you will see that they are all subtly different from one another. The species most commonly seen in gardens is Echium piniana, originally from La Palma. It produces a single, tall flowering stem in its second or third year bearing mauve flowers, and then dies, seeding copiously. Other Echiums are perennial and produce woody, branched stems which sport a mound of foliage and tight spikes of bright blue flowers. Echium candicans from Madeira, where it is known as the 'Pride of Madeira', is one of those. Other species are also grown here and cross breed with one another, producing an eclectic and unusual range of hybrid plants. Our most visually striking species is the true blue Echium gentianoides from La Palma, which produces large sky-blue flowers and smooth, grey-green leaves.
The Mediterranean Garden boosts a dazzling array of Echiums, each with a flower spike containing thousands of flowers with every shade of colour from sapphire blue to dusky pink. The result is a stunning floral explosion which resembles a natural firework display.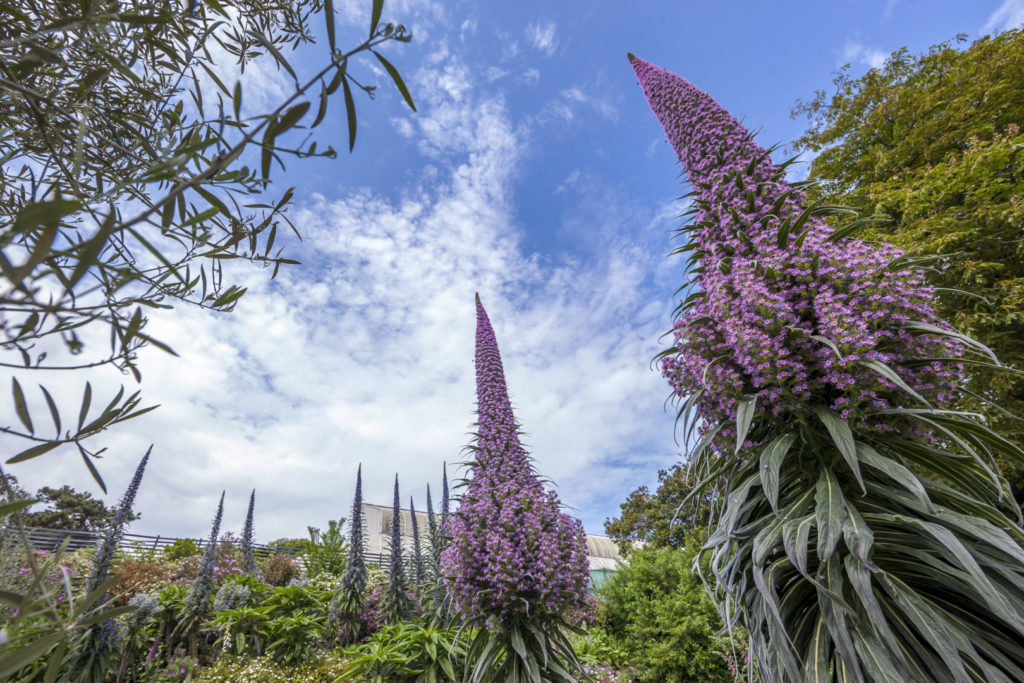 Chris Kidd, Curator – "Our display of Echiums in our Mediterranean Garden is simply stunning. Visitors are unlikely to see anything quite like it anywhere else in the UK. We don't practice traditional formal gardening methods here at VBG, choosing to let Mother Nature take charge and create the plant communities that thrive together in our sheltered warm climate. We call it the Ventnor Method and it puts the garden at the leading edge of modern botanical science. The Echiums choose where they want to grow, we just let them get on with it and see what happens each year. The results speak for themselves and visitors usually clamour to take seeds and plants home with them at the end of their visit to try and grow them elsewhere in the UK, often with great success as they aren't that difficult to propagate. Give them a well-drained sunny spot in the garden and they pretty much look after themselves. It's in their second year of growth that the fireworks really do begin, with a stunning flower display in early summer."
SIGN ME UP!
If you would like to receive regular news, updates and offers from Ventnor Botanic Garden please sign up here. Privacy Policy

Tel: 01983 855397  |  Ventnor Botanic Garden, Undercliff Drive, Ventnor, Isle of Wight, PO38 1UL