Ventnor Botanic Garden Internship
This is offered to professional horticulturists working in botanic gardens or other large celebrated gardens, or students undertaking higher horticultural qualifications. It involves working alongside VBG garden staff, but on a voluntary basis. VBG will provide accommodation for the duration of the work placement*. These are short term placements, usually of one week to a month, and are available throughout the year. For details or to apply, contact us on 01983 855397 or email volunteer@botanic.co.uk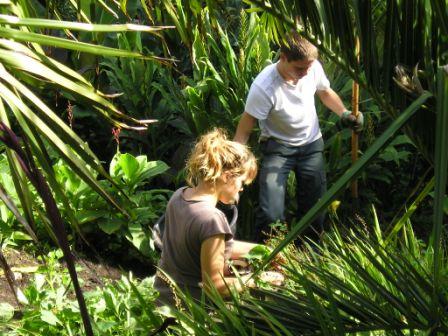 French students Mathilde and Thomas working amongst the Hedychiums
This garden is a wonderful place for interns to make a contribution to their community, form new friendships, learn new skills, have fun and be a part of everything we have here.
*VBG are now offering free accommodation between 30th November 2017 and the end of March 2018 for all internships.
SIGN ME UP!
If you would like to receive regular news, updates and offers from VBG, please sign up here...

Tel: 01983 855397  |  Ventnor Botanic Garden, Undercliff Drive, Ventnor, Isle of Wight, PO38 1UL