The Studio & Artist in Residence 
The Isle of Wight has long been a magnet for Britain and Europe's creative classes. Writers from Charles Dickens to Lord Alfred Tennyson have lived on the island to draw inspiration from its verdant pastures, undulating cliffs, and hidden chines. The ranks of artist visitors are no less illustrious. Berthe Morisot, the "forgotten impressionist" spent her honeymoon down the road in Cowes. And J.M.W. Turner, the gruff-mannered Englishman whose oil and watercolour works became the apotheosis of British landscape painting, also spent time sketching on the Isle.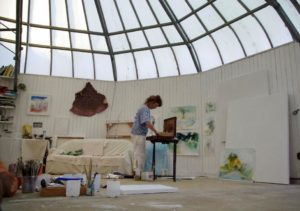 The tradition continues with the VBG Artist-in-Residence Programme and our Art Series. The Artist-in-Residence occupies the Studio in The Hub, the atrium of our Tropical House, producing artworks for our Garden Gallery, teaching courses, and welcoming curious visitors into the Studio.
The origins of our AiR programme lie in the history of the garden. VBG was subsidised by the local government for many years, but after the financial crisis of 2008, the garden began to decay and its buildings fell into disrepair. In 2012, it was rescued by a Community Interest Company, a social enterprise which embarked on the process of preserving VBG for the local community. Our Artists-in-Residence, along with other artists with a connection to the Isle of Wight, help to support VBG by creating large canvases for our Art Series. The proceeds of these canvases are then used to help maintain and preserve our garden.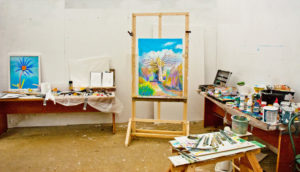 The only guidance for AiRs is that their works be connected to VBG in a way that the artist can articulate. We are forever indebted to Charles Inge, Jill Roe, Silas Curtis, Lisa Traxler, Alex Williams, Judy Rodriguez, Guy Eades, Alice Dawson & Helena Isabelle Biggs for their support and their excellent pieces. As the Series grows we look ahead to taking it on tour, so more people can enjoy the pieces.

Tel: 01983 855397  |  Ventnor Botanic Garden Community Company C.I.C, Undercliff Drive, Ventnor, Isle of Wight, PO38 1UL