On The Day Procedure
Once read, please sign and date below to show you have read and will be complying with all procedures. Please retain a copy for reference on the day of your visit.
School Trips to Ventnor Botanic Garden's Essentials List:
Keep Warm – Although we are 'Britain's Hottest Garden', it still gets cold in winter! Don't forget jumpers, coats, hats, gloves & scarves!
Hot Hot Hot! – On sunny days, it does get very warm here in the microclimate. Remember suncream, sun hats and plenty of water!
Keep Clean – If the weather is looking glum, make sure you bring a rain mac and wellies
Be prepared – Make sure to have an assigned first aider with first aid kit at all times.
Get Educated – If you don't have a lesson planned, visit our website on www.botanic.co.uk to print downloadable worksheets and pick one relevant to your curriculum!
Pocket Money – Ventnor Botanic Garden has a Gift Shop with a variety of items as well as ice creams during the summer season!
Lunch Box – Learning and exploring the Garden is hard work, make sure you bring a packed lunch or even contact us to arrange a pre made packed lunch including cheddar cheese, marmite or strawberry jam on white or granary bread. Accompanied by a piece of fruit, crisps and fruit juice.
Guide? – At Ventnor Botanic Garden, there is plenty of historical, horticultural and nature knowledge to be learnt! Book a guided tour to get the most out of an educational visit to the Garden!
Break Room – During the sunny summer days at Ventnor Botanic Garden, the lawn areas are great for a picnic and play time! Although, if the weather is cold and wet, remember to book a classroom for lunch and indoor activities.
Keep updated! – visit our website on www.botanic.co.uk to view our What's On page to see if you would like to participate in any of our upcoming events!
Arrival
On arrival (via coach/minibus) a Teacher/Group Leader is asked to report to the Reception Area to check in. The group may then exit the coach and congregate outside the entrance to the Garden. All coaches will be able to drop off their passengers outside the main entrance to the Garden (near Gift Shop and Plantation Room Café), before parking in the designated Coach Parking Bays.
It is advised that the children are given the opportunity of a toilet visit before starting their visit. Either a volunteer or member of staff will 'meet and greet you' and give brief introduction to your class.
A room is available to use, the room is lockable providing a secure place to leave belongings. This room may be used as a base, classroom or in inclement weather as an area to eat packed lunches. Details of securing the room will be given on arrival. If the room is not available on a given day, an alternative area will be provided.
Around the Gardens
Please keep to the paths and walk in the grounds (except the play area).
We ask that you to respect other visitors to the Garden and avoid excessive noise.
Please keep all members of your group in sight at all times.
Only collect items that have fallen to the ground (leaves and cones) do not pick plants and trees.
The play area is an excellent place to lunch with plenty of space to run off excess energy.
Ventnor Botanic Garden – 'The Hub'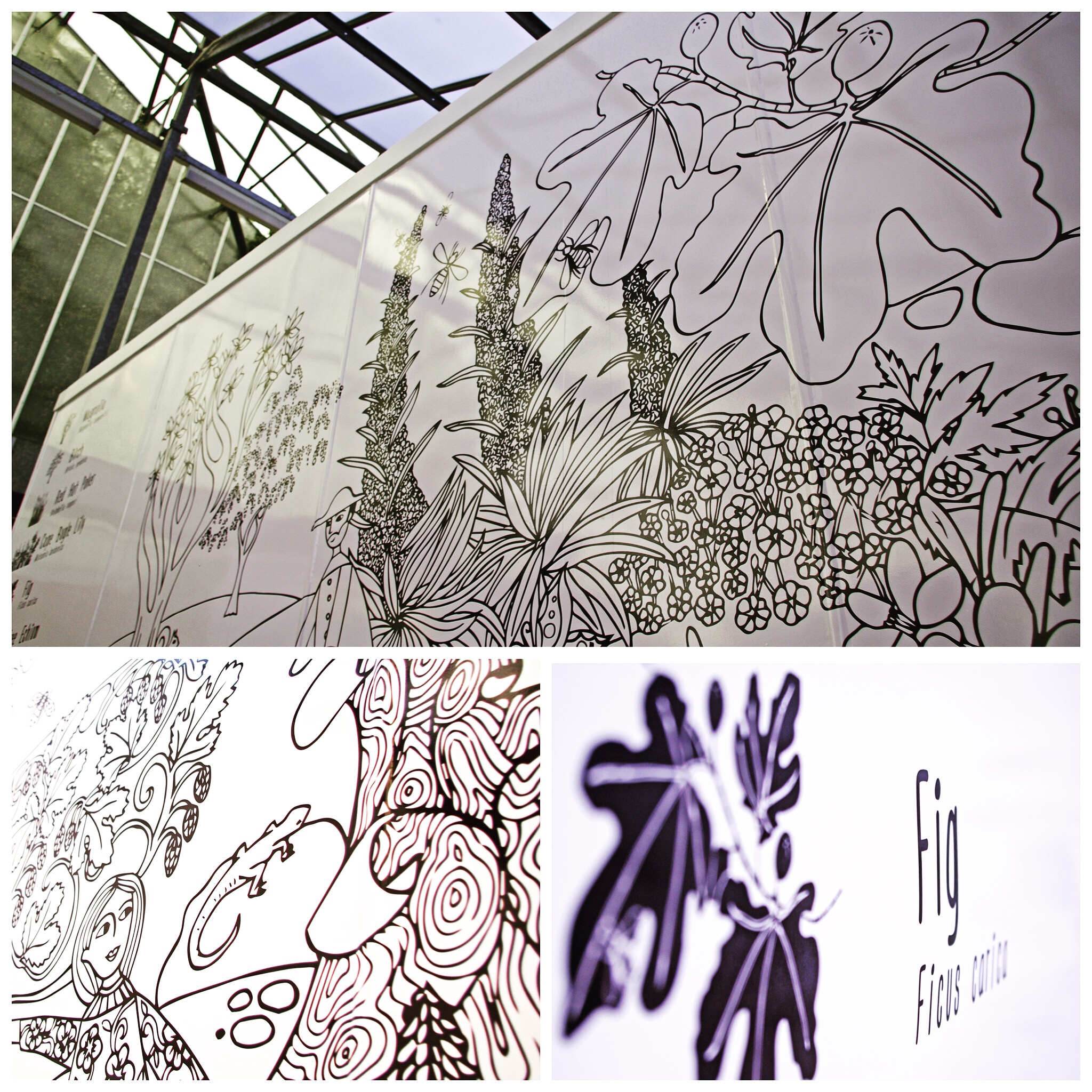 New to Ventnor Botanic Garden is 'The Hub'. This is in front of our Tropical House where the Amazonian Water Lillies grow. This area includes zones of education material from what the difference between a normal garden and a botanical garden is & the nature of Ventnor Botanic Garden's micro-climate to the GIANT colouring wall. Make learning fun while the children recognise different types of plants!
The Gift Shop / Plantation Room Café, edulis Restaurant
We know that many schools allow their children to visit the shop either during or at the end of their visit. We ask that children are escorted by an adult in groups of no more than six at a time as this will allow the children to view items without crowding, making it a more enjoyable experience for them. We also ask that the escorting adult checks to see how busy the shop is before entering and to be aware and sensitive of our more senior visitors.
The general public use all areas of the Garden. Please ask children to be mindful of other visitors at all times.
Departure
Please check that all children have their belongings.
Please leave the allocated Room and all other areas in a clean and tidy condition.
We trust that you will have enjoyed your visit and we hope to see you again in the not too distant future.

Tel: 01983 855397  |  Ventnor Botanic Garden Community Company C.I.C, Undercliff Drive, Ventnor, Isle of Wight, PO38 1UL